As cool as being an entrepreneur sounds, it is a big risk to take as all hopes rest on the success of the business. Meanwhile, the fate of a business doesn't just lie in how business-smart the owner is, or how funded it is. There are various determinants of the success of a business and one of the many determinants is how friendly the environment is for businesses to survive. The dream of every entrepreneur with their well-thought business ideas is to improve the economy of the country and create job opportunities. So, does Nigeria Provide A Good Business Environment For Entrepreneurs?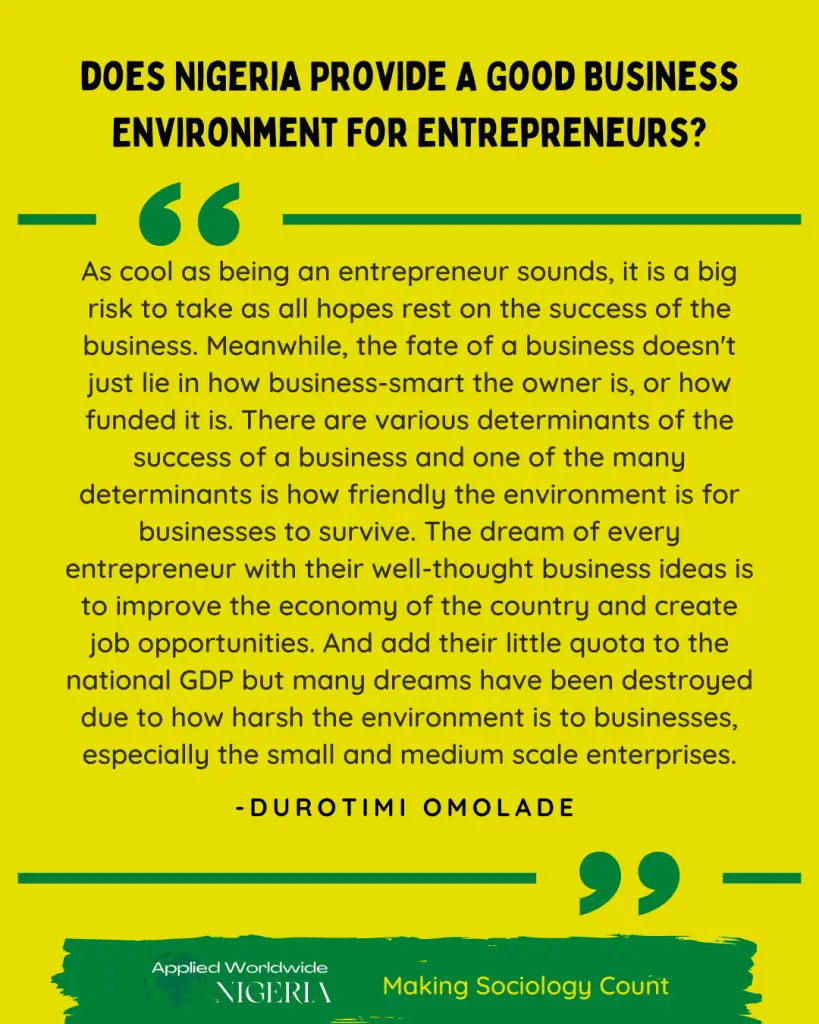 Government and a Good Business Environment
Small and medium-scale enterprises have proven to be able to drive an economy if the environment is right. A country like the United States of America is a perfect example of the symbiotic relationship between businesses and the government. As of 2019, by creating an environment for businesses to thrive, a report reveals that small and medium-scale enterprises contribute up to 44% of the U.S. economic activity.
Further revelations proved that as of 2014, with a total GDP of $17 trillion, small businesses were able to contribute $5.9 trillion, making a big statement in that regard. This confirms that the government of the U.S. has greatly benefitted from these enterprises just like the enterprises benefitted from the government.
In Nigeria, small businesses contribute 48% of the national GDP but in monetary value, they haven't been able to contribute as much as the U.S., for reasons not far-fetched. For a country whose economy is crumbling such that large corporations only hope for survival rather than making many profits, it's almost impossible to think a small enterprise stands a chance. This explains why over 800 businesses stopped operations in the country from the period of 2009 to 2011.
Small and Medium Enterprises Development Agency of Nigeria (SMEDAN)
In fairness, the Nigerian government has made few moves in encouraging entrepreneurship amongst citizens. They've also in their little way, tried to support small businesses through different initiatives. The most notable one is the establishment of the Small and Medium Enterprises Development Agency of Nigeria (SMEDAN).
SMEDAN whose mandate according to the enabling act is to "stimulate, monitor, and coordinate the development of the MSMEs subsector; initiating and articulating policy ideas for small and medium enterprises growth and development" amongst many other objectives channeled towards the establishment, growth, and development of businesses.
Entrepreneurs have undoubtedly benefit from the establishment of this act. One of the most appreciated benefits is easy to access to funding and loans which public and private organizations do give out to business owners through SMEDAN. In spite of this, there are so many factors that still make the environment unbearable for businesses to survive before thinking of growth. Entrepreneurs have had to fight some of these factors individually while the rest are factors that are out of their control but are determined by government policies, orders, and decisions.
Factors In The Business Environment That Negatively Affects Businesses
Taxation
To create a good business environment conducive for businesses to grow and expand, there must be tax consolidation or even waivers for entrepreneurs and their businesses. The tax commitment of businesses sometimes makes it difficult for businesses to record net profits plenty enough for entrepreneurs to plow back into the business.
Electricity
For a country that preaches industrialization, Nigeria seems to be far behind in achieving this due to how poor it is in generating power. For the purpose of industrialization, many countries have been able to generate up to or over 10,000 megawatts of electricity but Nigeria still struggles with 5,000 megawatts. Manufacturing companies have had to leave the country for another on
the basis of poor electricity. In the same vein, entrepreneurs have had to close down their businesses also.
High Cost of Raw Materials
The aim of every business is to get raw materials at cheaper prices, process them into finished products and sell them at higher prices to make a profit. As simple as that sounds, the Nigerian business environment has made it difficult with the way the prices of materials have skyrocketed. Every new week is a new price for many products in the market. This is majorly unfair to the customers who bear the consequences but will eventually tend to find an alternative when prices get too high for their purchasing power.
Fluctuating Foreign Exchange
This affects entrepreneurs whose businesses depend on the import of raw materials and the ones whose products are meant to be exported. Recently on the black market, the naira have been sold at an all-time high of over 700/$ but a few weeks later, it was sold for a little over 400/$. Between these periods, entrepreneurs made purchases of raw materials when the price was high and sold the products when the price was low. This means they'll have to bear the loss incurred during that period.
Inconsistent Policies
Some government policies have benefitted businesses and driven the economy while some guidelines have made existing businesses stop operations as they are meant to frustrate entrepreneurs. These policies are robust and are a very big determinant of the fate of every business in the country as they're sponsored and backed by government agencies.
Infrastructure
Infrastructural development no doubt can help to improve the business environment of a country. With good road networks, transportation systems, and many more, businesses will flourish and entrepreneurs will be encouraged. So many businesses have recorded losses due to bad roads as they were unable to reach the targeted markets at the right time. Farmers suffer the most as a result of this. Entrepreneurs too are not left out.
Insecurity
Nigeria is widely known to be one of the most insecure countries in the world and this has affected investment in the economy. It has also discouraged entrepreneurs from expanding their businesses to other parts of the country, focusing only on states that are secured. Kidnapping, killing, and bombing have contributed to making the environment not conducive for businesses and until the government takes charge of every territory, businesses will fail to grow.
Final Thoughts on if Nigeria is a Good Business Environment for Entrepreneurs
Above are a few of the business environmental factors that badly affect businesses. If these factors can be looked into and the right steps are taken by government agencies, businesses won't just grow, small and medium-scale enterprises will greatly boost the national GDP, reduce the rate of unemployment, and drive industrialization.