Perhaps you've visited the home of a middle-class or upper-class friend. Given their wealth, having housekeepers is a given. But one of those helps is a minor. A girl under the age of 12 should be in school and learning how to deal with puberty and all the changes it brings. A child shouldn't be saddled with responsibilities even grownups find difficult. Contrary to what is frequently seen on social media, there is no uproar. Could it be because these employers are our friends? Family? Or maybe even us? Why have we glorified child trafficking and modern slavery? Now let's look at the rising issue of child labor in Nigeria.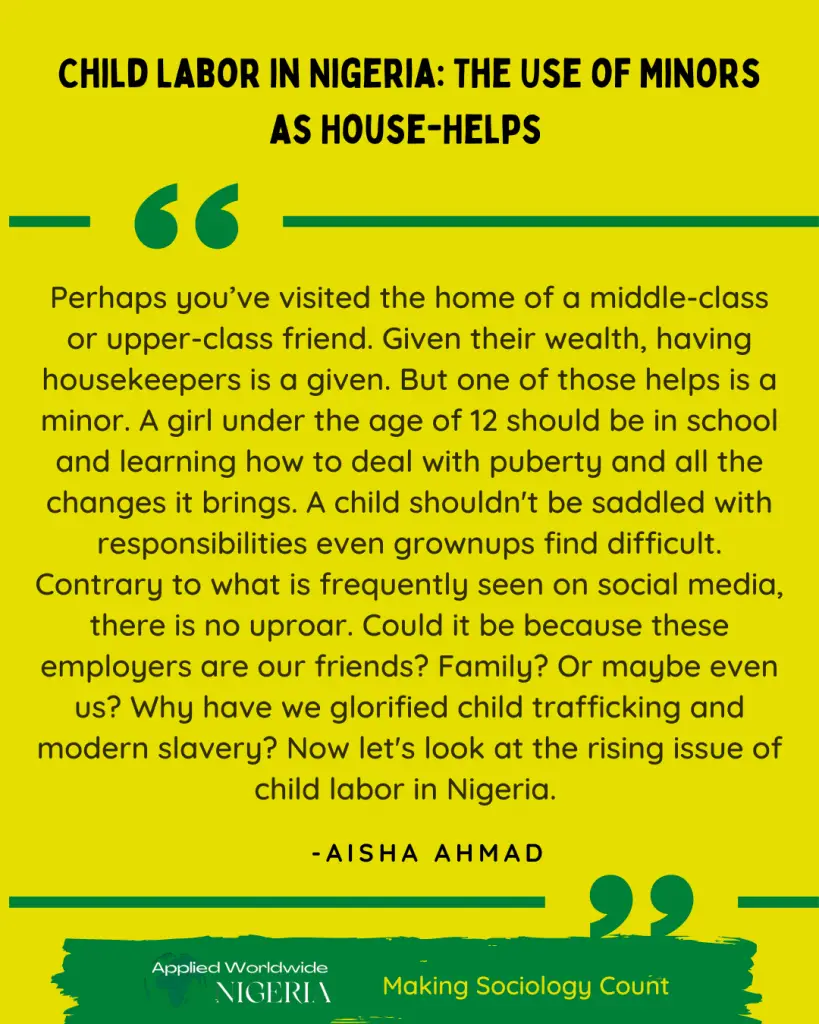 Child labor in Nigeria

According to statistics from the International Labour Organisation (ILO), 15 million children are engaged in child labor in Nigeria. Child labor refers to the exploitation of children through any form of work that deprives them of their childhood, interferes with their ability to attend regular school, and is mentally, physically, socially, and morally harmful (Wikipedia, 2022). Child labor is a big menace that is spreading in Nigeria. However, today's realities show that a girl child is 80 percent more likely to be assaulted and sold into child labor than a boy child. Furthermore, the UNICEF Nigeria MICS (2021) report reveals the percentage of girls aged 5 – 17 engaged in child labor is 11%. This contravenes laws such as the Child Rights Act (2003) and the Violence Against Persons Prohibition Act (2015), prohibiting these practices.

These underaged girls move to the city with the help of agents who promise to find them jobs as "house helps". With promises about enrolling them in school—opportunities that scarcely exist in their small villages. And other advantages as motivating factors for their decision. However, they hardly ever see the inside of a classroom. A recurring reason they take this offer is to escape poverty and support their family. The usual salary range is N5,000 monthly which they never receive but is instead sent to the agents that procured them. Out of which they take out their cut as their commission and the rest is sent to the girl's parents.

They are also not allowed to visit their parents except on special occasions. They get news about their family from the agents assigned to them. This is to alienate them from their family so they can provide better service. If they're lucky, they get to speak
to their family on the phone; and that's contingent on their 'good' behavior and if their parents have access to a cellphone. The parents are kept out of the loop on the condition of their child, and only glean information from the agents when they visit.

Recruitment process

The agents use a variety of recruiting methods, including visiting villages, relying on word of mouth, and putting printed "Vacancy" posters with their phone numbers up on street walls in low-income neighborhoods. The girls are taken from their small
villages to economic hubs like Lagos, Abuja, Port Harcourt, and nearby cities once their families agree. The children serve as a means of financial support for their families, many of whom are in dire financial circumstances. The idea of someone else taking care of their child while paying a stipend is too tempting to ignore for many parents who can barely afford daily meals and basic healthcare for their children. Both the employers nor the girls do not undergo background checks.
The majority of clients demand that the girls undergo testing for communicable diseases such as HIV, hepatitis B, hepatitis C, and tuberculosis. This frequently comes at an additional cost to the potential employer, but it is such a common request that some laboratories even offer a "house help screening package" upon request. If the girl tests positive for any of the above diseases, she is deemed unfit, and the agent provides a replacement.

Life of a Nigerian underage house-help

In Nigeria, upper- and middle-class families with disposable income to spare usually employ house girls, especially working women who rely on these children to help with household chores allowing them to focus on their paid jobs, with no care
for the psych and education of these children. Some of the work duties the girls are assigned include cleaning, cooking, child
minding, and other chores as deemed fit by their employers. They are expected to rise before everyone in the house, clean and cook breakfast, and get the children ready for school. Sometimes, they take the kids to school before carrying on with other household chores and running errands.
Childminding is one of the most asinine things they are expected to do. How is a child that's still figuring out the world be expected to care for another child? Some of them are brought to look after their employer's aging mothers or female family members. An underaged girl house-help is not a substitute for a professionally trained nurse. It is astounding that this barbaric act still exists in this modern age; it is so perverse that it has been accepted as the norm.

You'd expect they'd get at least decent sleeping spaces after their hard day's work right? Wrong. The typical Nigerian house-help is not given decent sleeping spaces, often sleeping on mats in a corner of the house, usually the kitchen; it is symbolic of their place in the house. There are no qualms about sending them out at night either, even when there are reservations about the safety of same-age children of the employers. For the privileged ones that get to go to public schools, they are always easy to spot. They come late to school from their overwhelming morning chores, hardly submit assignments on time because they don't have time to themselves, they wear tattered and patched uniforms, have bags under their eyes from lack of sleep, and look malnourished from eating once a day or leftovers.
For the ones that don't attend school, their day continues with hardly time for a break. Their food is rationed and they are never allowed to eat with the family. They hide away in corners, like church rats. This is the life of the average Nigerian house help.
Some reported cases of physical and psychological abuse against underage house help in Nigeria. Physical, sexual, emotional, and psychological abuse are common. In May 2017, a well-known case of abuse was publicized in original diurnal papers eight-year-
old Miracle Edogwu was allegedly beaten to death by her employer, a businesswoman in Lagos simply identified as Oby. While most cases go unreported, numerous other cases of abuse ranging from scalding by hot water to near-death beatings are fraught in local news. 
The ones caught by the media or neighbors are:
July 7, 2016: A Lagos resident identifies as Gloria blinded her 12-year-old house help in one eye for not properly washing a kettle.

December 19, 2016: 10-year-old Joy was beaten to death in Ikorodu, Lagos by her employer, a mother of three children herself.

May 20, 2017: It was reported that a businesswoman in Lagos beat her eight-year-old house help, Miracle Edogwu, to death. The pregnant employer was apprehended by Lagos police officials on her way to dispose of the corpse.

March 2018: In Lagos, a 10-year-old house help was rescued from apparent death at the hands of her employer who attacked her with a hot pressing iron. Her alleged crime was beating her employer's kids.

April 23, 2018: In another case of a woman in Anambra State, Nkechi Bartholomew ruptured the intestines of her 12-year-old house-help and used sticks in her private parts, destroying her reproductive organs, causing the minor to need multiple surgeries.

June 16, 2018: In Lagos, Yetunde Bello was arrested for torturing her 10-year- old house help with a hot iron for damaging the knob of a tap on her premises.

August 2018: In Imo State, the wife of a Pastor, identified as Ezine, was arrested after concerned neighbors reported her for maltreating her house help, who was malnourished and sported swollen blood-stained eyes.

April 23, 2020: In Lagos, Nene Fortune Stephens was arrested for torturing her aid to death over a disagreement on her salary and stealing food.

July 14, 2020: In Kaduna State, a house help whose family was displaced by terrorists, was molested and hospitalized.

March 11, 2021: Nmesoma Okoye, a woman from Anambra State, was arrested for beating her 10-year-old maid to death.

September 30, 2021, a woman in Abia State doused her 10-year-old female house-help with hot water mixed with pepper for committing the crime of breaking a plate.

February 7, 2022: Opeyemi Omoyemi, a middle-aged woman in Akure Ondo State, assaulted her 10-year-old house help with a razor blade, inflicting deep cuts down his body for supposedly stealing food. She was arraigned after her story went viral on Twitter.

December 9, 2022: In Ibadan, Oyo State, a policewoman identified only as Omolola, was accused of killing her 14-year-old house help by the victim's mother, Yemisi Jimoh, who received her brutalized corpse after 10 months of not seeing her.

The list goes on and on. These children, whose only crime is to be born into poverty and to dare to believe in the possibility of a better life, are exploited because of their innocence. They are not merely statistics or nameless numbers on a research paper.

Sexual abuse
Their suffering doesn't end with physical or mental abuse, they also suffer sexual abuse at the hands of their male employers. They serve as available substitutes for their bosses' wives and are used as sexual objects. These men would sneak out of their beds to meet the maids, regardless of their underage status, and take advantage of them, while threatening them to keep their mouths shut or risk being kicked out of the house. This abuse continues unchecked with no one to confide in as their parents are out of touch and would likely not do much. And for the ones that report to the men's wives, they get beaten and shamed in return. If they're unfortunate enough to get pregnant, they practice unsafe abortions running the risk of permanent damage.

Child Rights Act
To domesticate the Convention on the Rights of the Child, Nigeria adopted the Child Rights Act in 2003. It was developed to protect the legal rights and obligations of children in Nigeria. The law has three main goals, two of which are to integrate legislation that focuses on children into a single, comprehensive law and to outline the duties of government agencies associated with the law. As it prohibits child separation from parents against their will, save in cases where it is in the child's best interests, it also serves as legislation against human trafficking.

According to the Federal Government, the Child Rights Act, which addresses issues like child abuse, child labor, and forced marriage, among others, in Nigeria, has been domesticated by 34 of the 36 states. Kano and Zamfara are the two states yet to
domesticate the Act. The fact remains that appropriate data on these house help is not readily available. More effort should be put into identifying them and ensuring the implementation of both Acts.

Going forward
The government has shelters to cater to children found in such situations. There are currently eight such shelters run by NAPTIP across the country, with a limited stay limit of six weeks. It also provides counseling and rehabilitation for rescued children.
Victims requiring longer periods of care are transferred to other non-governmental organizations. Unfortunately, this practice is deeply ingrained in Nigerian culture.
To eradicate the abuse of children, the National Assembly needs to review the Child Rights Act and define what should be considered domestic work and labor for children, especially the girl child. Government must ensure the proper implementation of the Child Rights Act and ensure violators face necessary legal actions. While the Child Rights Act sets the minimum age of employment as 18, the Labour Act sets the minimum age as 12. There is a need to harmonize these Acts to ensure enforceability.

In rural areas, it is important to regularly inform and remind parents of the physical, psychological, and sexual abuse their daughters experience at the hands of their employers. They should also be made aware of the value of ensuring that their kids
attend schools in their neighborhoods since, as prepubescent and young adolescents, they depend on their parents for support, love, and direction during this vulnerable time in their life.
In order for a girl growing up in a rural area to become a strong, empowered member of society with the ability to advocate for herself, she must be afforded a normal childhood. One of such places is the Abuja-based Literacy and Skills Place, which helps female domestic workers leave the life of servitude by teaching them how to read and write, and also vocational skills such as baking and sewing. Such programs will encourage more house helps to leave their domestic work in search of better
employment opportunities.